Just like in any industry, there is competition in the "online gift registry" space.
And that's a good thing, we welcome it!
It's important to have competition so that companies don't get out of control and take advantage of people.
But you know what's crazy? When your competitors shut down.
30% of gift registries have closed down
It's something which has happened 3 times in the last 12 months and you can see that several popular gift registries have have completely shut down…
That might not seem like a lot, but it represents about 30% of our direct competitors in the gift registry space.
You might think we'd be overjoyed to see our opposition disappear, but the impact on all of the people it affects quickly stops any selfish feelings you might have.
Why are our competitors closing down?
Why are they shutting down?
It's hard to tell.
Thankyou registry has an email address listed on a blank web page but nobody responds when you email it.
Not Another Toaster seems to have an active live chat window, but all they tell you is that the website isn't accepting new accounts until further notice.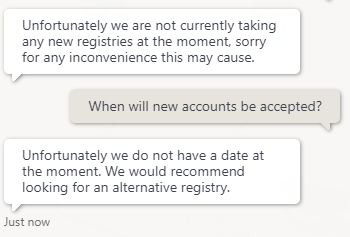 To me that sounds like they're keeping the site alive until the last person finishes using their account before they close the website too. A courtesy that users of the other 2 sites may not have been afforded.
At the end of the day businesses typically close down because their business model isn't viable and they go broke.
Why does it matter?
When a gift registry closes down, the biggest impact it has is on the thousands of people who have gift registries setup with these businesses for their weddings.
Many account holders will have already had friends and families send money to their gift registry. Do they receive all those funds before the service closes down?
Who knows.
What do people do when they are a few weeks from their wedding and their gift registry service simply doesn't exist anymore?
Do they have to setup another registry on a different website and then frantically tell all their guests?
What about the friends and family who've  already sent money to the old gift registry? Should they tell them to make another contribution to the new site?
Or should they tell them to cancel their credit card and have the bank dishonour the contribution they made?
What a nightmare.
The problem with a free gift registry
People ask us all the time if our gift registry is free.
The short answer is no, it's not free.
We don't mind answering that question because people are entitled to make purchasing decisions based purely on price.
Now normally if a business that you used one time went broke because they provided a service for free (or so cheap they couldn't keep the lights on), you wouldn't think twice about it.
But when there's a wedding hanging in the balance, suddenly the stakes are VERY high.
Some weddings receive several thousands of dollars in cash contributions from all the friends and relatives of the newlyweds.
With so much money tied up in that one big event, you want to know that your gift registry funds are safe and sound with a business which isn't going to collapse when the next electricity bill comes in the mail.
How does My Gift Registry survive?
The strategy with My Gift Registry is to provide a premium service to people who want an online gift registry or online wishing well.
What that means is simply providing a great quality service at a fair price.
This is what allows our users to feel comfortable when they entrust their gift registry to us before the wedding.
They know that because My Gift Registry is actually a profitable business, they won't have to lose sleep wondering if it will still be there in the morning.
How My Gift Registry became #1
This approach is actually the key to the success of the My Gift Registry, and how we've been able to consistently grow year after year while our competitors die off.
My Gift Registry attracts customers who recognise the value of paying to use a strong, reputable service. A service which is the sole focus of the employees and not just a hobby to make some extra money for pub on the weekend.
Customers who want to use a 100% free online gift registry, don't use our service because they're comfortable (we hope) with the risk associated with that decision.
Not everyone wants to pay to use the best service, and that's 100% ok.
Since wedding insurance hasn't really caught on in Australia (and probably wouldn't cover funds held in a gift registry anyway), we sometimes get frantic emails from couples coming up to their wedding who are trying to put together an alternative gift registry after the one they initially chose failed.
It's a conversation we never enjoy having, but we do take some comfort in the fact that My Gift Registry is able to provide a 100% reliable option for them, should they choose to use it.