Cards & Deliveries
When can I access my funds?
Over the years we've learned that some people are less organised than others, and need a little more time to make a contribution after the actual event date.
That's why we allow a 7 day grace period for any stragglers to make their contribution, and avoid a lot of embarrassment.
Once the grace period ends, you'll be able to access the funds in your account.
How do I collect the contributions?
Once your gift registry closes off, you'll be able to request a payout from the withdraw section of your account.
You will be able to allocate the funds you've received against available cards, and then use those cards however you like!
Click here for a step by step guide.
What cards are available?
You can see a complete list of all store cards available here.
Why don't you just send the funds directly into my bank account?
Federal anti-money laundering laws prevent taking funds from a credit card and passing them into your bank account.
Doing so would mean that you'd be committing a federal crime, and we're pretty sure you don't want to do that.
That's why we provide a solution that gives you flexibility in how you spend your funds, in a safe and legal way!
What if I want to spend the funds at a store that's not in your range?
No problem!
If you want complete flexibility with how you spend your funds, our premium card range includes Visa gift cards which enables you to make purchases at any store.
Can I use the cards for purchases in-store?
Yes!
All cards in our range can be used both in-store, or online.
Are there any limitations to the Visa gift cards?
The only thing they can't do is withdraw cash, they're for purchases only. You can also only load a maximum of $1000 onto each Visa card, but you can always order multiple Visa cards if you need to.
What is the difference between digital and physical cards?
All cards in our standard range are delivered digitally. That means you can use them immediately after they're generated.
Premium cards are the only ones which are delivered physically via post and must be manually activated, which can cause a delay before use. You can explore the entire card range here.
Regardless which cards you choose, they can all be used in-store or online.
How long does it take for cards to be delivered?
Cards from our standard card range are ready for use instantly after they're generated via the website.
Our premium cards are the only ones which are physically sent to you by post.
Once you place an order for physical cards we'll conduct a manual review of your order. As soon as that process is complete we'll begin generating & preparing them to be sent out to you on the next business day. We use Australia post to send your cards so once they go into the post it should only take a few business days.
However in mind that weekends, public holidays, peak periods and any other delays from Australia post will have an impact on the delivery time.
Do the cards have an expiry date?
All of the cards offered in our range have a minimum expiry date of 3 years from the date of purchase.
For more specific details, please refer to the terms and conditions available on the website associated with each particular card you're interested in.
How do I activate my cards?
For security purposes we send any premium/physical cards in a non-activated state. When you receive your cards simply visit the card activation page and fill out the form. You'll be notified via email when the cards are ready to use. Usually within 2 business days.
What number do I use to activate my cards
When activating cards please enter the proxy number on the back of the card.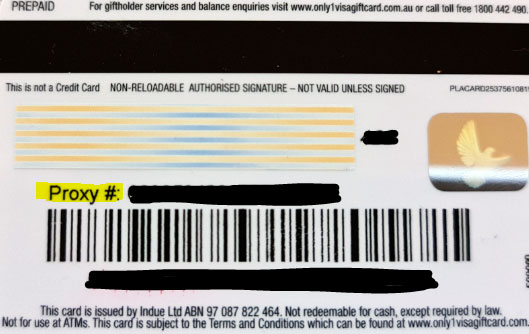 Why is there a manual review when ordering cards?
Security is our highest priority.
So when you order your cards our team conducts a manual review the ensure that all transactions are above board.
This process is usually complete within 2 business days after you place your order, and you'll be notified as soon as the review has been completed.
How do I use my Woolworths card in-store?
Simply enter the last 10 digits of your card number when making an in-store purchase.
Is it safe to send physical cards via post?
We don't take any chances when sending out your physical cards. That's why we use registered post for every single delivery so that nothing is left to chance.
On top of that, we send the cards in a non-activated state so even if they were stolen, nobody will be able to use the funds anyway.
What is my account ID?
Your account ID is a unique number that is only known to the account holder.
It is used to verify your identity when activating cards, and is located in the top right corner of your account dashboard.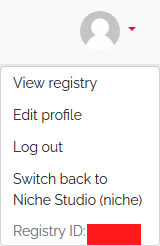 Does it cost money to order cards?
We have 39 standard store cards available, and we don't charge anything for you to order cards after your event is over.
The only exception is if you decide to order from our premium card range, in which case a fee is applied. Click here for a breakdown on these fees.