Looking for the #1 online gift registry (or wishing well) service on the Gold Coast? Looks like you've found it! There is simply no easier way to collection donations from wedding guests than My Gift Registry. But why stop there, you can also use it for your Engagement, Baby Show, Birthday or any other big event!
Say NO to Bad Gifts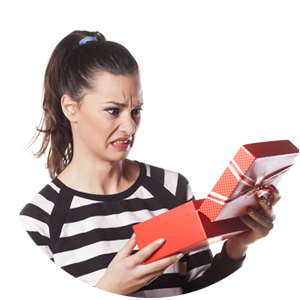 The trouble with most other gift registries is you never get the gifts you want. This is because you have to build your list based on what will fit into the budget of your guests to maximise participation, rather than the including things you actually want and need in your life. The end result is that you end up including items in your registry for the sole purpose of getting a refund or exchange after the wedding. It's a total waste of time!
This is especially true for a regular wedding registry on the Gold Coast.
My Gift Registry let's you dodge those silly limitations and create your registry with items from any store in the world because guests are simply making a financial donation to you. From there you can spend that money any way you want.
You can manage your contributions in 2 different ways…
Online Gift Registry Gold Coast
Selecting the "online gift registry" option during setup will allow you to create a list of gifts which guests can make contributions towards. If you've got friends or family who prefer the idea of buying you an actual gift rather than simply sending money, this is the best option for you.
Online Wishing Well on the Gold Coast
If your guests are a little more progressive then select the "online wishing well" option. This removes the entire list function altogether and provides a simple 1-click donation process so they can make a financial contribution directly into your wishing well with minimal fuss!
Don't forget that it's totally to create your online gift registry or wishing well and setup takes less than 5 minutes!
Get started and create your online gift registry now, or if you have some questions before you start, check out our FAQ section or you can contact us directly.