Welcome to the #1 online gift registry service in Perth! Why are we number 1? Because there is simply no other service which makes it easier to collect financial gifts from friends and family during your wedding, engagement party, birthday, baby shower, or some other event you're holding!
Say NO to Bad Gifts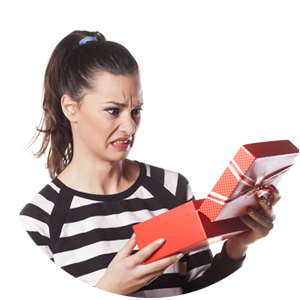 Gift registry services are traditionally pretty awful to use. You have to create a list of items from stores you'd never normally go to, and you have to include items which you're not really interested in because you need something to suit all budgets of people attending. This means after all the hassle you still have to go and return many of the items afterwards. It's a total waste of time!
This is especially true for a regular wedding registry in Perth.
This is the main difference with My Gift Registry… With a short 5 minute setup you can create a beautiful gift registry for your guests, with a simple list of gifts you'd like. You'll never get a bad gift ever because you can add gifts from anywhere in the world regardless if it's an online store, a physical store, or something you saw on TV!
There are 2 options when creating your gift registry…
Online Gift Registry in Perth
The "gift registry" option enables you to create a familiar list of items you'd like to receive. Guests then make contributions toward any item they like, and for any amount they like and you receive all funds at the end.
Online Wishing Well in Perth
If you'd rather just skip the whole list thing, you can choose the "wishing well" option instead. This enables you to just collect the funds without need need for a list. Easy!
Get started and create your online gift registry now, or if you have some questions before you start, check out our FAQ section or you can contact us directly.