Congratulations on finding the #1 online gift registry service in Adelaide! My Gift Registry has a simple mission… To enable people to collect financial donations from their friends and family without the stress of having huge amounts of cash layout around, or the hassle of having to return a bunch of terrible gifts.
Say NO to Bad Gifts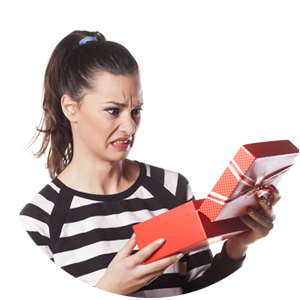 Most ordinary gift registry services are very annoying to use because they're so limited with what they can do. You can only add items from their stores, and then you still end up having to return a lot of them anyway.
This is especially true for a regular wedding registry in Adelaide.
Using My Gift Registry means you don't have to deal with any of that because you can create a list of items from stores anywhere in the world, no matter if they're online or offline!
There are 2 options when creating your gift registry…
Online Gift Registry in Adelaide
When you create your account you can choose the "gift registry" option which enables you to create a list of items you'd like. Guests make contributions to whatever item they like and you collect the funds. Simple!
Online Wishing Well in Adelaide
If you aren't fussed with creating a list of items then choose the "wishing well" option when you sign up the virtual list of gifts is removed. Once again you'll receive all the funds your guests contribute.
Remember that it's totally to create your gift registry, and it only takes about 5 minutes to complete!
Get started and create your online gift registry now.