If you're looking for Sydney's #1 online gift registry, or wishing well service then you've come to the right place. My Gift Registry provides people with the easiest way to collect donations at your Wedding, Engagement, Baby Shower, Birthday or any other type of event!
Say NO to Bad Gifts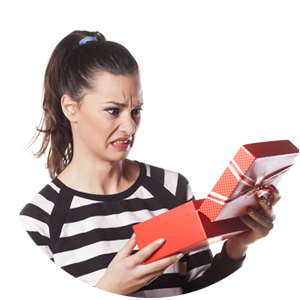 The problem with regular gift registry services is that you almost never get the gifts you actually want. You're forced into including items which will fit in with a range of budgets so that everyone will have something they're comfortable with buying. Which means you're essentially including items in your registry for the specific purpose of getting a refund or exchange after the wedding. What a waste of time!
This is especially true for a regular wedding registry in Sydney.
My Gift Registry enables you to skip over all those annoying limitations and create a gift registry with items from any store, anywhere in the world because guests are simply making a financial donation for you to spend however you like. Nice!
You can choose to manage your guest contributions in 2 different and extremely useful ways…
Online Gift Registry in Sydney
If you choose the "online gift registry" option during setup you'll be able to create a list of gifts which guests can make contributions towards. This can sometimes be useful for guests who want to feel that they're actually purchasing a gift, even though in reality they're simply sending a financial contribution to you.
Online Wishing Well in Sydney
Alternatively you can dispense with the list of gift suggestions and use the "online wishing well" option. This provides guests with a simple 1-click donation process so they can make a financial contribution which you can then spend however you like.
Did we mention that setup takes less than 5 minutes! No stress needed here.
Get started and create your online gift registry now, or if you have some questions before you start, check out our FAQ section or you can contact us directly.